London ambulance handover waiting times to A&E 'rising'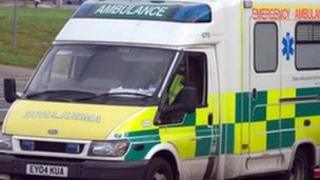 The number of ambulances in London waiting more than 30 minutes from arriving at hospital to handing over patients has gone up about 66% in the last year, Labour has claimed.
Shadow health minister Jamie Reed revealed the figure, from a Freedom of Information request, in the Commons.
He said ambulances were missing their targets "in responding to the most serious life-threatening callouts".
Health minister Daniel Poulter said the situation was unacceptable.
'Wait going up'
Speaking during Commons health questions, Mr Reed said: "The performance of A&E services clearly have an obvious and acute effect upon the performance of ambulance services.
"... The average length of time patients wait in ambulances before accessing A&E is going up and in some cases patients are waiting almost three hours.
"The CQC [Care Quality Commission] says the London Ambulance Trust... 'does not have enough staff to keep people safe'.
Dr Poulter said: "... There are unacceptable variations in the quality of triage and handover between ambulance services and hospitals that exist not just in London, but in other parts of the country."