London deputy mayor Stephen Greenhalgh referred to IPCC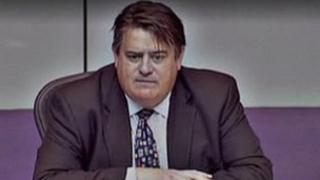 A complaint about the deputy mayor for policing in London has been referred to the independent police watchdog.
The Independent Police Complaints Commission is looking at an allegation about Stephen Greenhalgh when he was Hammersmith and Fulham Council leader.
It relates to controversial plans for the redevelopment of Earl's Court in west London.
Mr Greenhalgh said the "baseless allegations" were "politically motivated".
The Greater London Authority said it referred the matter to the Independent Police Complaints Commission (IPCC) as it was classed as a "serious complaint".
The complaint relates to plans to knock down Earl's Court exhibition centre and two nearby estates and replace them with a new "urban quarter" comprising of 7,500 new homes.
Campaigners against the plans say if they are approved, jobs would be lost.
Tenants and leaseholders on the West Kensington and Gibbs Green housing estates, who would have to be rehoused, have called for a judicial review on the grounds that the plan is contrary to Hammersmith and Fulham's local planning policy.
'Full co-operation'
The complaint relates to statements taken between late 2010 to the summer of 2012.
The council said no homes had been allocated and no-one had received preferential treatment.
Stephen Greenhalgh said: "I am immensely proud of my record as Hammersmith and Fulham Council Leader.
"These baseless allegations are politically-motivated. I refuse to be distracted from my important role as deputy mayor for policing and crime."
A council spokesman said: "The lettings plan will be agreed by a public committee in the normal way and will take into account need and preference, whilst ensuring that old homes are demolished only when replacements have been built.
"Allegations have been made about our processes and the council is perfectly willing to ensure any concerns are considered. Deloittes, an independent company, has been asked to do this and will report back in due course."
A spokesman for the Mayor's office said it understood Mr Greenhalgh was not being investigated as part of this process.
He added that it had been referred to the IPCC in line with standard practice.
The IPCC said the complaint was currently being considered.