London night buses see '50% crime rise'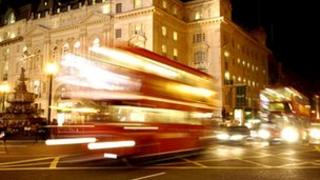 Crime on London's night buses has gone up by almost 50% in two years, BBC London can reveal.
Transport for London figures show there were 3,817 robberies and thefts in 2011-12, up from 2,588 in 2009-10.
The shopworkers' union Usdaw said poorly-paid shift workers forced to use night buses were the "real victims".
Transport for London (TfL) said it was increasing police patrols on night buses.
The crime figures were revealed through a Freedom of information request by BBC London.
'Protect staff'
In November, the Independent Parliamentary Standards Authority said MPs had asked to claim expenses within a short walking distance of Westminster, so they could avoid late-night journeys across London.
Jim Carty, of the Union of Shop, Distributive and Allied Workers (Usdaw), said late night shift-workers did not have that choice.
"More and more retail work is done at night," he said. "The shops are opening later, the shops tend to get filled at night and the cleaners are going in at night.
"These are generally lower-paid workers, they don't have cars and they can't get taxis, they're dependent on night buses to get them to and from work, so it's not an option for them, and government and local authorities and police and employers have a responsibility to try and protect their staff."
Conductor call
Community group London Citizens said it was not enough to rely on bus drivers to help out.
Co-ordinator of its CitySafe programme, Peter Brierley, said: "The new [bus for London] number 38 has conductors.
"They're not going to be there at night time but I think every bus would be great to have a conductor on, and their role should be to be the eyes and ears on that bus."
The mayor's office said there were no plans for night-time conductors.
A joint TfL and mayor's office statement said: "Tackling crime on public transport has been prioritised by the mayor and is now at its lowest level in eight years.
"Our latest figures for the bus network confirmed that overall offences had been reduced by a further 3.5% and those figures also showed that there is only one robbery for almost every 200,000 bus journeys in the early hours of the morning.
'Scary experience'
"However, the Safer Transport Command team are aware of the figures indicating a possible increase in robberies at night and as a result of that they are focusing resources on the night bus network."
Secondary school teacher Laura Quinn was on a night bus when she fell victim to a conman with crutches.
She said she felt him reach into her bag and take her purse before standing up and hobbling off the bus.
"I decided to try and get my stuff back because I figured he couldn't go very far with it," she said.
"I followed him and he had all of my stuff hiding in his plaster cast so when the police stopped him and tipped his leg upside down, it all came falling out."
Despite recovering her phone and purse, she says the memory of the night has stayed with her.
She said: "It was quite scary, it was dark when it happened, I followed him off the bus in an area where I don't live, which was probably silly, but it was definitely quite a scary experience and I did feel a bit vulnerable after that."