London fire station closure plans opposed by council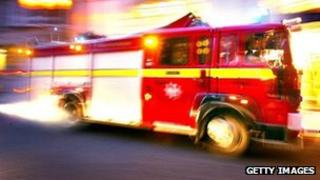 Concerns over plans to close a fire station close to the Houses of Parliament have been raised by a Conservative council.
London Fire Commissioner Ron Dobson has unveiled plans to close 12 fire stations with the loss of 520 jobs, to save £45m over the next two years.
Philippa Roe, leader of Westminster City Council, said the authority and the public were concerned at the news.
London Fire Brigade said the plans would not jeopardise people's safety.
The cuts would see 10% of front-line firefighter posts axed but Mr Dobson said last week, he hoped to avoid compulsory redundancies.
The number of fire stations would be reduced to 100 under the proposals, which will go before the fire authority on 21 January, with Westminster among those earmarked to close.
Historical buildings
Ms Roe: "We are very concerned by these plans, as are our residents, and we are opposed to the closure.
"The justification for closing these fire stations seems to be that fires are rarer in modern buildings, but 75% of Westminster is a conservation area, reflecting the fact that we have one of the largest and most important collections of historical buildings in the world."
The council said there had been a 12% rise in fire engines having to come into Westminster from other boroughs to deal with incidents in the last six years.
Response times in Westminster of both first and the second engine to arrive at the scene of an incident have increased by 9% and 14% respectively, in the same period, the council added.
Last week, the Fire Brigades' Union said the proposals were "dangerous and wrong".
Deputy Commissioner of the London Fire Brigade, Rita Dexter, said: "These proposals are based on the professional judgement of the Commissioner, who has been keeping Londoners safe for over 30 years, as well as incident data from hundreds of thousands of real emergencies, and I am confident that his proposals will continue to keep firefighters, and the public, safe.
"Heritage and listed buildings have been carefully considered under the proposals. Westminster, and the important buildings contained within it, will continue to benefit from some of the best emergency response times in the country.
"We take our responsibility for these buildings seriously and will continue to work with organisations like English Heritage, to keep them safe."