Boris Johnson criticises police over Stuart Lawrence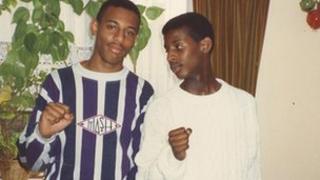 London Mayor Boris Johnson said it was "utterly disgraceful" if Stephen Lawrence's brother has been stopped and searched by police 25 times.
Stuart Lawrence has complained to the Metropolitan Police over one incident, but he told a newspaper he was often stopped because he was black.
Mr Johnson told BBC London 94.9 that stop and search should not be conducted in an "oppressive way".
The Independent Police Complaints Commission is overseeing the inquiry.
In 1993, Stephen Lawrence was stabbed to death in a racist attack in Eltham, south-east London.
Last year Gary Dobson and David Norris were convicted of the murder of 18-year-old student.
'Oppressive' police technique
The Met faced criticism over the original investigation into the death and a public inquiry branded the force institutionally racist.
Stuart Lawrence, 35, a teacher, said he had been stopped by police up to 25 times over several years.
His solicitor Imran Khan said the formal complaint related to him being stopped by police on 16 November but it was "the culmination of a course of conduct over many years which amounted to harassment and discrimination based upon his skin colour".
Mr Johnson said: "I think it's utterly disgraceful that Stuart Lawrence was stopped 25 times and I have talked to Commissioner Bernard Hogan-Howe about it.
"I think it is unacceptable that in our city that kind of thing should still be going on. I am absolutely determined that Stuart and his family will get proper answers."
The mayor added it was "vital" for communities to have confidence in the police.
"We have got to make sure that stop and search is conducted courteously, in accordance with the law, and is not used in an oppressive way and Bernard Hogan-Howe has said he will not tolerate racism of any description in the force."
The mayor also defended his decision to bring back former deputy mayor for young people Ray Lewis who stepped down in 2008 following claims of financial irregularities.
Mr Lewis will earn £20,000 for his one day-a-week work with the City Hall's youth and education team to help organisations develop their mentoring programmes.
Mr Johnson said: "There were no allegations that we could dig into at the end, there was nothing substantive.
"He's innocent until proved guilty and there has been no prosecution."