IPCC to supervise Stuart Lawrence race case investigation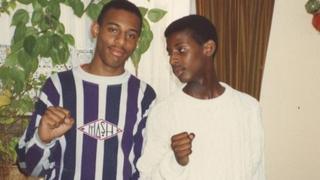 The police watchdog will supervise an investigation into a complaint by Stephen Lawrence's brother that officers stopped and searched him because he was black.
Stuart Lawrence has complained to the Metropolitan Police (Met) over an incident on 16 November.
He also alleges a pattern of behaviour against him by officers.
The Independent Police Complaints Commission (IPCC) will oversee the investigation, conducted by the Met.
In 1993, Stephen Lawrence was stabbed to death in a racist attack in Eltham, south-east London.
'Overall pattern'
Last year Gary Dobson and David Norris were convicted of the murder of 18-year-old student.
The Metropolitan Police faced criticism over the original investigation into the death and a public inquiry branded the force institutionally racist.
Stuart Lawrence, 35, said he had been stopped by police up to 25 times over several years.
His solicitor Imran Khan said Mr Lawrence decided to formally complain after he was halted by police on 16 November.
Mr Khan said: "That was the straw that broke the camel's back.
"That was the culmination of a course of conduct over many years which amounted to harassment and discrimination based upon his skin colour, his ethnic origin."
In a statement, the IPCC said it would supervise the investigation following "careful consideration" of a referral from the Met on 9 January.
"The referral relates to an incident in November 2012 when Mr Lawrence was stopped by police officers but the complaint also alleges an overall pattern of behaviour against him by MPS officers on the grounds of his ethnicity," the statement said.
"Last year, the IPCC shared public concerns generated by a number of referrals alleging racism and announced it would closely scrutinise how the MPS (Metropolitan Police Service) handled racism complaints.
"As a result of that scrutiny the IPCC has supervised a number of cases alleging racism in the MPS and undertaken additional work.
"We will be publishing the results of this and any further lessons to be learned from Mr Lawrence's case."
It said the decision to supervise the investigation would be kept under review.