Brent library closures 'cost almost same as savings'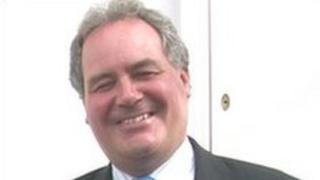 Library closures in north-west London have cost nearly as much money as they have saved, an MP has claimed.
Bob Blackman, Conservative MP for Harrow East, made the claim in the House of Commons earlier.
He was speaking about the decision by Brent Council to close six out of its 12 libraries.
Brent Council said the closures would help to fund improvements to its remaining library service and help it save £104m.
Mr Blackman said: "Brent Council closed six of its libraries last year; since then library visitor numbers have fallen by 130,000.
"The council attempted to save nearly £1m by saving the branch libraries, however what they've done of course is they've had to mothball them and its cost them half-a-million pounds.
"Equally, £120,000 has been spent on legal fees."
'Right conclusions'
Residents and celebrities campaigned to prevent Brent Council shutting the libraries.
They hoped the Court of Appeal would overturn the decision of a High Court judge who found the plan lawful.
But Appeal Court judges sided with the council in the case.
In December 2011 Lord Justice Richards, Lord Justice Pill and Lord Justice Davis ruled that the High Court judge, after a "most careful and thorough review of all the points advanced", had reached the "right conclusions".
Lord Justice Pill said: "Given the scale of the spending reductions the council was required to make, and the information available following earlier studies, a decision that the library service should bear a share of the reduction was not, in my judgement, unlawful."
The Supreme Court refused to allow campaigners to appeal against the decision.
The campaign against the closures was supported by author Philip Pullman, playwright Alan Bennett, singer Nick Cave and bands Depeche Mode, the Pet Shop Boys and Goldfrapp.