Peter Deal jailed for raping boy 40 years ago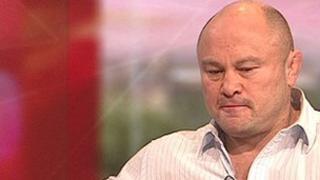 A boxing coach who raped an east London schoolboy he trained 40 years ago has been jailed for five years.
Peter Deal, now 74, had admitted a string of sex offences at a previous hearing at Inner London Crown Court.
The court heard how his victim broke decades of silence after former England rugby hooker Brian Moore disclosed that he had been sexually abused as a child.
This prompted the man, now 54, to tell his wife and then police about the abuse he suffered from 1969 to 1973.
The man, who was aged between 10 and 13 when Deal abused him, had not told anyone of what happened until he heard Mr Moore being interviewed on the radio.
The former Harlequins player recounted the abuse he had endured at the hands of a teacher.
Deal was jailed for eight years in 2006 - reduced to seven on appeal - for abusing two boys he met at the same East Ham boxing club involved in Thursday's case, and was released in 2011.
'Revulsion'
Prosecutor Chris Stimpson told the court that Deal raped his victim an estimated 50 times in total.
Mr Stimpson said the victim had said: "All my life I have felt dirty and not a real man.
"I now look back at things I have done and still do. I constantly shower, sometimes even twice a day."
Deal originally denied the charges, but pleaded guilty to seven of an original 17 charges, including rape and indecent assault, in October.
Sentencing him, Judge Roger Chapple said: "The offences to which you have pleaded guilty reflect a course of conduct, a course of persistent sexual abuse of a child, conduct which fills any right-thinking person with revulsion."
In a statement, Deal's victim said: "I am relieved that I have finally been able to face the events of the past and that my tormentor is to be punished by the court for his crimes.
"My fear, though, is that other boys were abused by this man and, if they were, I would urge them to do as I have done and to contact the police and seek legal advice."