Sally Hodkin murder case: Witness recalls knife attack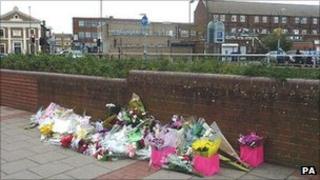 A woman has described how she fought for her life as a knife-wielding woman released from a secure mental unit attacked her.
Kerry Clark, 24, said she grabbed the knife Nicola Edgington threatened her with in Bexleyheath, south-east London.
It happened in October 2011, shortly before the attacker killed 58-year-old Sally Hodkin.
Ms Edgington, 32, of Greenwich, south-east London, denies murder and attempted murder.
The court was told that she pleaded guilty to the 2005 manslaughter of her mother, whom she killed with a knife, after being diagnosed with schizophrenia.
However, the prosecution says it is not prepared to accept the same explanation this time.
Butcher's knife
Ms Edgington was sent to a secure hospital after admitting killing her mother, but was released into community care in 2009.
The Old Bailey was told how she pinned Miss Clark to the ground and pointed the knife at her chest.
Moments later she ran into a butcher's shop to grab another knife which she used to kill Mrs Hodkin.
Miss Clark, who was standing at a bus stop when she was attacked, said: "We were grappling. I managed to grab the blade with one hand and kick her off me.
"It happened very quickly."
Both women were strangers to the attacker and were on their way to work.
The trial continues.