London councils 'top parking charge earners'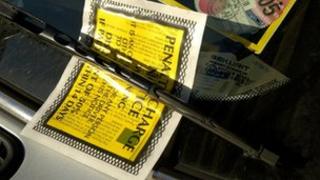 Councils are making huge profits from parking charges while cutting road safety spending, the Institute of Advanced Motorists (IAM) has claimed.
IAM figures show local authorities in England took more than £411m in parking charges in 2011/12 - an increase of almost 15% on the previous year.
The top council "earners" were all in London, the IAM said.
Westminster City Council said the money was not profit, but a surplus spent on transport and infrastructure.
The IAM said the amount spent by councils on road safety, education and safe routes to schools, decreased by 18% to £105m between 2010/11 and 2011/12.
It added that overall revenue spending on highways and transport reduced by 6% between 2010/11 and 2011/12, while capital expenditure, on things like construction and tarmac, reduced by an estimated 13%.
The figures show Westminster council made £38m in 2011/12, up 8.7% from the 2010/11 figure.
Kensington and Chelsea collected £27.5m, up 31% while Camden made £25m, up 18%.
Outside London the biggest "earner" was Brighton and Hove, which made £13.7m, up 18.9% from the previous year.
The IAM said the figures came from the Department for Communities and Local Government.
'Record-breaking'
Simon Best, chief executive of the IAM, said: "Councils are making record-breaking profits from parking, while cutting road safety spending on life-saving services such as, education for young drivers, cycle training, and safe-routes-to-schools schemes.
"At the same time cuts to road maintenance will mean a backlog of repairs which will simply cost more to fix in the long term."
Daniel Astaire, the Westminster councillor responsible for business, said: "Even if these figures were right, which they are not, Westminster's parking surplus is spent entirely on improving roads, transport and infrastructure - for motorists that this group claims to represent.
"Westminster must manage the kerb space properly so that it is accessible to residents, visitors and businesses, all of whom have competing needs to park in one of the busiest cities in the world.
"Our parking service is geared towards ensuring compliance with these necessary rules and, as a result, we are pleased to see that the number of tickets given out to motorists in Westminster has halved since 2003."
'Cut costs'
Peter Box, chairman of the Local Government Association's economy and transport board, said regulating parking was essential to keep traffic flowing, pedestrians and motorists safe, and roads clear for emergency services and business deliveries.
He said surpluses from parking revenue helped to lessen the effect of budget cuts as they must be spent on filling potholes, bus passes for the elderly, park-and-ride schemes, street lights, parking services and road improvement projects.
Local Government Minister Brandon Lewis said: "The coalition government has scrapped the last government's rules which forced up parking charges and demanded aggressive planning enforcement.
"Councils should now be supporting their local high streets and wider economy.
"Under our local government finance reforms, councils will now benefit from calling off the war on the motorist, encouraging shoppers and growing their town centres.
"However, the analysis by the institute is wrong. Income from on-street and off-street parking only rose by 3.7% in the last year, which is lower than the prevailing rate of inflation."
IAM policy and research analyst Alice Granville said: "The government' s own figures show that councils reduced the total for parking staff costs, running expenses and capital charges by £4.4m.
"This is good news but income from parking fees and charges increased by more than ten times this at £46.3m.
"This combined with £2.7m from additional income means that councils made an additional £53.4m from parking."