Protest over Battersea park refurbishment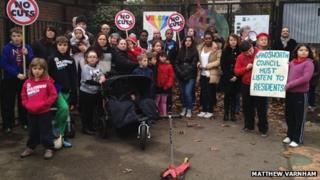 Campaigners have been camping in a south London playground to protest against plans refurbish it.
Wandsworth Against Cuts does not want Battersea Park Adventure Playground to be demolished and protesters have been sleeping on the premises.
A revamped £200,000 playground is set to reopen in the spring - but without any staff as children will not need to be supervised, Wandsworth Council said.
The council said it had delayed the work until protesters left the area.
The adventure park includes a climbing wall and employed three full-time staff members to supervise children.
But the employees were made redundant in October.
The council said total savings of £386,000 would be made, after plans to turn it into a conventional play area were approved by the council.
'Safe environment'
Campaigners, including members of Occupy London, have been sleeping in the closed playground since Saturday night and have maintained a vigil during the day.
Norman Maclean from Wandsworth Against Cuts said the park's staff had provided a "stimulating and safe environment" for children for the past 60 years.
"The playground staff have helped teenagers from the local area, including the large Doddington, Ethelburga and Surrey Lane Estates, to grow up free from gang and drug related pressures... (and) helped young people develop confidence and independence.
"We call on Wandsworth Council to reverse their decision to get rid of play staff and destroy the adventure playground.
"Their plan is to extend the adjacent, conventional playground into the adventure play area. This will only be suitable for younger children who are being supervised by their parents."
The council said it had to cut spending by £70m and as frontline services needed to be prioritised "high level of spending on adventure playgrounds is regrettably no longer sustainable".
Children's services spokesman for the council, Councillor Kathy Tracey, said: "When it reopens, the playground will offer local young people a greater variety and choice of new and exciting play facilities, and will also be able to remain open for longer than was previously possible.
"These are well organised protesters with their own agenda. We hope that once they have made their point, they will allow us to get on with the work required to reopen the playground."