Fire warning over 'dangerous modern fridge freezers'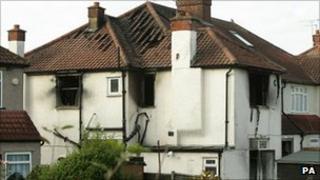 Modern fridge freezers are the most dangerous household appliance when involved in a blaze, a London Fire Brigade (LFB) report has found.
It said they contain large amounts of plastic and flammable insulation, which can cause large fires that spread quickly and highly toxic gases.
The report followed a fire in Neasden in 2011 that began behind a chest freezer and caused six deaths.
The LFB is calling for tougher safety standards for the appliances.
According to the report, fridges and freezers built in recent years contain more plastic than older models, but the highly flammable insulation is not separated from the parts of the appliance where a fire can start.
Strange noises
A comparison between the UK and the US, where safety standards are more stringent, found that people in the UK involved in such a fire were more likely to be injured.
Figures for the UK suggested that one in every five fires involving fridges or freezers resulted in someone being injured, compared with one injury for every 25 fires in the US.
There is an average of 336 fires involving fridges or freezers in the UK each year and an average of 69 people are injured.
Six members of the same family died in September 2011 in Neasden, north London, when a freezer failed.
Muna Elmufatish, 41, her daughters Hanin Kua, 14, Basma, 13, Amal, nine, and sons Mustafa, five, and Yehya, two, died due to the "inhalation of fire fumes" the inquest found.
LFB deputy commissioner Rita Dexter said: "London Fire Brigade wants to see tougher standards so that the highly flammable insulation in fridges and freezers is better protected from fire.
"In the meantime, our advice is that if people notice any strange noises coming from their fridge or freezer, they should call the manufacturer or an electrical repair expert immediately."