Thailand beach shooting: Stephen Ashton death suspect in court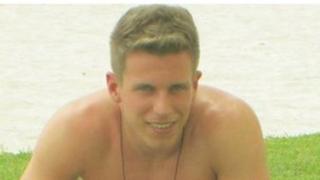 A man suspected of shooting dead a 22-year-old British tourist in Thailand on New Year's Eve has appeared in court.
Ekkapan Kaewkla, 26, was arrested over the killing of Stephen Ashton, of south London.
Mr Ashton, a city trader from Purley, was reportedly caught by a stray bullet during a fight between two groups at a bar on the island of Koh Phangan.
Mr Kaewkla is also suspected of carrying a weapon on the island following the shooting.
Mr Ashton's family said he was an innocent bystander and they are "devastated" by his death, during a party on Haad Rin beach.
Events reconstructed
His family have reportedly travelled to Koh Phangan to identify his body formally and make arrangements for his repatriation.
British ambassador to Thailand, Mark Kent, is also expected to visit the crime scene later.
Footage emerged on Wednesday of Mr Kaewkla and Thai police carrying out a reconstruction of events there.
Koh Phangan is a resort island, neighbouring Koh Samui, which draws thousands of backpackers to its famous full moon parties on Haad Rin.
According to the Bangkok Post, Mr Ashton was shot in the upper body in the early hours of Monday and taken to hospital where he was pronounced dead.
A statement issued by the Foreign Office on the family's behalf said: "As a family we are completely devastated by the loss of Stephen from our lives.
"He has been taken away from us in such cruel and tragic circumstances in which he was an innocent bystander simply enjoying new year celebrations.
"We are comforted in the thought that he was having a fantastic time with friends after such a difficult period following the loss of his much loved dad who passed away from a brain tumour in 2011 and the loss of his granddad a few months earlier.
"We were all so proud of him; he was a much loved son, brother, grandson and nephew.
'Exercise caution'
"He will be truly missed by his family but also by the many friends he made during his life.
"We cannot comprehend how someone can carry out such a reckless act, giving such little value to human life."
Advice on the Foreign Office website, updated in December, notes that seven British nationals have been murdered in Thailand since January 2009.
It says western tourists have been victims of vicious unprovoked attacks by gangs in Koh Phangan.
"These attacks are particularly common around the time of the full moon parties and generally occur late at night near bars in Haad Rin," it states.
"Exercise caution when walking in this area at any time, especially after dark."
A former colleague, Michael Jarman, described Mr Ashton as energetic, happy and full of life.
He said he was "dedicated and devoted to what he wanted to do in life".
"He was a breath of fresh air," he added. "It's a big, big shame."
Richard Ottaway, Conservative MP for Croydon South, said he had contacted Mr Ashton's family to extend his condolences and offer any help that he could.