Labour: Mayor of London's draft budget 'an insult'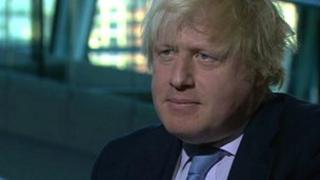 The Mayor of London's draft budget for the 2013/14 financial year has been branded "an insult to Londoners".
The document, released earlier, proposes that the Greater London Authority's share of the council tax bill be reduced by 1.2%.
Police and the fire brigade would get £262m and £14m less respectively, meaning some buildings would be sold.
The mayor said there would be no loss of public access to police counters and no hit on response times to fires.
The Greater London Authority (GLA) said the council tax cut would mean the bill for a Band D property would fall from £306.72 to £303.
The spokesman said: "If the Mayor's budget is approved it will mean his share of the council tax bill has either been frozen or reduced every year since his election in 2008.
"He would be on course to meet his commitment to reduce the GLA share of the council tax bill by 10 per cent over his second term as Mayor; and has already cut his share by 20 per cent in real terms since becoming Mayor."
Above inflation fare rises came into force on London's transport network earlier.
Passengers on the Tube, buses, trams, DLR and commuter trains face on average a 4.2% increase, while some rail season tickets have gone up by much more.
The increase, described by Boris Johnson as "balanced", is 1% above the Retail Price Index (RPI) measure of inflation.
Transport for London will get £134m less from the mayor's office, although Conservative Mr Johnson said he would put £300m into other transport projects.
'Government cheerleader'
Edward Lister, the mayor's chief of staff, said: "It [the draft budget] is fractionally better than we'd hoped, which is good news because it does mean that we've got more money, both to spend on investment in London and secondly to bring in a 1.2% reduction in council tax precept."
John Biggs, Labour's London Assembly budget spokesman, said: " I think the mayor needs to work out whether he's here to stand up for Londoners or to be a cheerleader for the government.
"There are massive cuts going in and this cut in the council tax is a minuscule amount, roughly 7p a week.
"And you need to put it into context that the fares today have gone up by over 4%.
"This is an insult to hard-working Londoners who are already struggling with a triple whammy of rising food, fuel and rent costs."
Liberal Democrat budget spokesman Stephen Knight said: "I do think there is more the mayor can do to protect services on an ongoing basis without the need for some of these cuts to fire and police stations that we're seeing.
"And I think the mayor should focus on that, focus on keeping services in London that Londoners require, instead of these headline-grabbing attempts at cutting the precept by tiny amounts that nobody's going to notice."
Mr Johnson said: "Against a difficult economic background my planned budget will cut council tax while making significant strides in growing our economy, fighting crime and improving transport.
"Next year the Government will carry out its spending review and I will continue to champion the capital to ensure we get the funding necessary to support the economy and quality of life in this great city."
The public consultation period for the draft budget ends on 23 January.