South London homes without gas for four days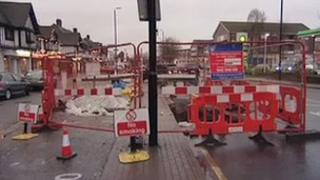 Hundreds of homes in south London have been without gas for four days after water from a burst main poured into an underground gas main.
Some 1,650 properties in Bromley and Orpington lost their gas supply after the incident on 30 December.
Southern Gas Networks said about 750 customers had been reconnected and that it aimed to have most of the remaining 900 connected on Thursday.
He said about 70,000 litres of water had been removed from the gas main.
"It's a massive job - every effort is going into it," the spokesman said.
Residents Julie and Kenneth Austen picked up an electric hob from the emergency centre that has been set up at a local church to help affected residents.
They said said they considered themselves lucky, but were still frustrated.
'Never sure'
Mr Austen said: "It's the uncertainty, it could be on tomorrow morning, fine.
"You get to tomorrow, another day, and then another day.
"And you're never sure when it's going to end."
The couple said they were also angry at claims that the water pipe had been leaking for days before it burst.
Thames Water has apologised to everyone affected.
Southern Gas Networks said it would pay compensation to the residents' gas suppliers, which would be reflected in their next bill.