Two-year-old cancer patient raises £20,000 for GOSH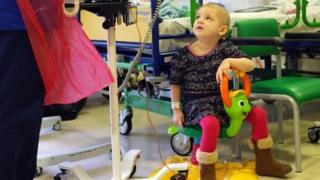 A two-year-old leukaemia patient has helped raise more than £20,000 in four months for London's Great Ormond Street Hospital (GOSH).
Yasmin Parsons was diagnosed in August and is undergoing a two-year treatment with chemotherapy at the hospital.
Her parents, from Woodford Green, east London, set up a blog which aims to increase awareness of childhood cancer and raises money for GOSH.
The children's hospital needs to raise about £50m every year to help its work.
'Shell-shocked'
Yasmin's parents, photographer Andrew Parsons and writer Karen Attwood, gave birth to their second child Isaac six weeks before Yasmin was diagnosed.
They created the blog - www.ourlifewithleukaemia.blogspot.co.uk - which tells the story of Yasmin's treatment and has raised £21,500 so far, through appealing for donations and fundraising events.
"We were shell-shocked when Yasmin was diagnosed after being very ill for two months but we knew we wanted to do something positive with what was happening to us," Ms Attwood said.
About £10,000 towards the fund was raised by Mr Parsons' photography colleagues who organised an auction of prints in October of some of their most celebrated images, including signed pictures of Prime Minister David Cameron, a portrait of Johnny Cash, and a print of John Lennon and Yoko Ono's bed-in.
Matt Forrest, head of community fundraising at GOSH, said: "We are delighted with the fantastic amount raised in such a short time, this will make a huge difference to the work, patients and families of Great Ormond Street Hospital and we are incredibly grateful for all their support and hard work fundraising."
The money raised goes towards building facilities, developing new treatments and providing the best equipment and support to the patients and families.
Yasmin has been diagnosed with acute lymphoblastic lymphoma which is a cancer of the blood and is the most common and most treatable of childhood cancers.