London New Year's Eve celebrations: Big rise in patients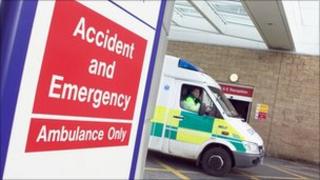 There was a significant rise in the number of people treated during London's new year celebrations, the London Ambulance Service (LAS) said.
LAS said 506 people received treatment, with 49 taken to hospital, compared with 274 treated by medics last year.
Control room staff took an average of 10 emergency calls every minute between midnight and 04:00 GMT, compared with 180 calls an hour on an average night.
The LAS said a high number of incidents were alcohol-related.
In 2011 the LAS said the control room took 2,633 emergency calls and of those who received treatment, 55 were taken to hospital.
'Use us wisely'
Last night LAS and St John Ambulance staff ran 13 treatment centres in central London and 50 paramedics and emergency medics responded on foot carrying medical equipment in backpacks.
A spokeswoman said the most notable rise was in the number of people treated during the night.
Assistant chief ambulance officer John Pooley, who led the service's response this New Year's Eve, said in the early hours demand was extremely high and a lot of the extra calls were because of alcohol-related injuries.
"At the busiest point of the night, our staff were taking 638 emergency calls an hour. They would expect to deal with 180 calls an hour on a normal night," he said.
"Every year we get busier and busier so our new year's message to Londoners is use us wisely in 2013 and only call in an emergency."