Crowds greet London's New Year's Day Parade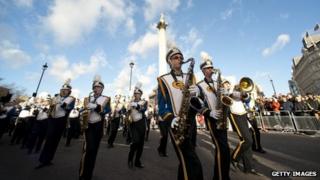 Thousands of people turned out to watch London's New Year's Day Parade, marking a momentous year in the city.
The 2013 parade signalled the end of a year that saw London host the Olympic and Paralympic Games and the Queen's Diamond Jubilee celebrations.
Crowds up to three deep in Whitehall, central London, watched the procession of performers, dignitaries and 400 Games Makers from the Olympics.
A live broadcast was expected to have a global audience of 280 million.
Organisers said more than 500,000 spectators watched the event, themed "Hats Off To London, Celebration Capital of the World", which they said would contribute an estimated £20m to the London economy.
Cheerleading skills
The Games Makers took part alongside performers from the London 2012 opening and closing ceremonies.
Enjoying applause from the crowds were Bolivian Dance Group Magical Bolivia, Flagz Mas Band, Albert & Friends Instant Circus, girl group Monroe and characters from Star Wars.
Cheerleaders from across the US, including Kentucky and Austin, Texas, also showed off their skills.
They were among more than 6,000 representatives of London boroughs and guests from around the world.
Bob Bone, the executive director of London's New Year's Day Parade, said of the Games Makers: "We wanted to let them take a curtain call on a world stage and show just how welcoming London is."
The procession started at The Ritz in Piccadilly and headed through Piccadilly Circus, down Lower Regent Street, to Pall Mall, Cockspur Street, Trafalgar Square, Whitehall and on to Parliament Square.