East London police to monitor tunnel running events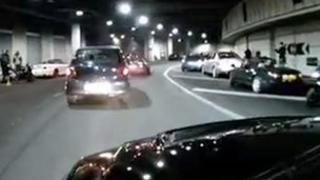 Rallies held by car enthusiasts in part of east London are to be monitored by police following complaints from residents.
Videos on YouTube show cars driving through the Dartford and Blackwall tunnels and the Limehouse Link.
The hobby known as tunnel running attracts hundreds of drivers keen to show off their modified cars.
Organisers said they were not breaking the law, and the meet-ups raised hundreds of pounds for charity.
'Upsetting constituents'
Campaigners said they wanted the drivers to find a safer venue.
Jim Fitzpatrick, Labour MP for Limehouse and Poplar, said: "I've had constituents contact me expressing concern about the noise in the early hours of the morning, about the pollution, about the congestion, about the speeds these racers are going at.
"We've been in touch with the police and the local council to get action to stop the tunnel runners from congregating here and upsetting local constituents."
The Metropolitan Police said there would be an increased presence in the new year due to the number of complaints.