London Underground cleaners in 48-hour strike over pay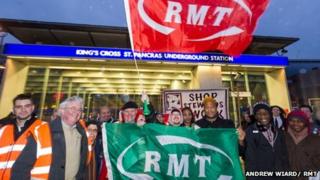 London Underground (LU) station cleaners have begun a 48-hour strike in a dispute over pay.
The Rail Maritime and Transport (RMT) union said members working for Initial and ISS contractors would not turn up for work for two days from 05:30 GMT.
A spokesman from ISS said it was "delivering a full service" on the lines it takes care of - the Jubilee, Northern and Piccadilly lines.
LU said it did not expect Tube services to be affected.
The RMT's general secretary Bob Crow said the cleaners were doing "some of the dirtiest jobs" on minimum pay.
A group of RMT workers picketed outside King's Cross station, in central London, on Monday morning.
Mr Crow said: "It is these same staff who have played a key role in keeping services clean and safe who are now forced again by their employers to take action for a living wage and recognition of their efforts.
"2013 has to be about equality, inclusiveness and social justice and that's what our cleaners are standing up for as the spotlight shines on London."
A statement from LU said: "This is a dispute between ISS, Initial and the RMT which we urge all parties to resolve without any unnecessary strike action."
An ISS spokesman said: "We will continue to provide a safe environment for passengers and Tube workers alike."