Wapping knife attacks: Lone women targeted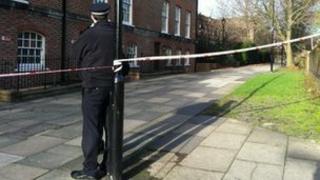 A stabbing which has left a woman seriously ill could be linked to an attack in the same east London wood two weeks earlier, police have said.
The latest victim, aged 26, was targeted as she walked through the park area, known as Wapping Woods off Garnet Street, on Saturday afternoon.
A man brandishing a knife forced her into bushes and stabbed her three times in the torso.
On 4 December a woman, aged 38, was stabbed by a man who stole her camera.
Extra patrols
Given the similarities between the attacks police said they were being treated as "potentially linked".
Police patrols have been increased in the area and people have been warned to be extra vigilant.
In the first attack the woman was walking alone through the park at about 18:25 GMT when she was approached by a man holding a knife.
After stabbing her and taking a digital camera from her bag, he ran off towards The Highway.
He was described as being Asian, in his late teens or early 20s, between 5ft 2ins and 6ft tall, chubby with short black straight hair with his fringe brushed forward.
He was wearing a dark hooded top with light tassels and jeans.
On Saturday at about 12:25 the latest victim, again walking alone, was forced into bushes by a knife-wielding man who stabbed her.
He also ran off towards The Highway but nothing was taken from the woman.
The second victim described her attacker as an Asian man aged about 30, 5ft 6ins tall with gelled hair and light stubble. He was wearing denim jeans and a dark jacket.
Insp Joseph McDonald of Tower Hamlets police said: "There are clear similarities between these incidents and officers are doing everything possible to find the man or men responsible.
"The violence used in these attacks is hugely concerning and could easily have led to a fatality."
He urged anyone with information that could help the inquiry to contact officers.