Heathrow Airport opium batch found hidden in paintings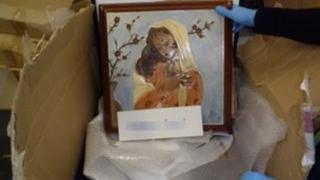 A batch of opium has been found hidden in paintings being shipped through Heathrow Airport.
The class A drugs, worth an estimated £150,000, were discovered by Border Force officers carrying out checks on freight on Christmas Day.
About 10kg of opium had been concealed within the frames of three paintings being shipped from Iran to Canada, via the west London airport.
Officials described it as an "extremely professional concealment".
Border Force Heathrow deputy director Brian Hill said: "As this case demonstrates, Border Force officers are on constant alert to stop the smuggling of illegal drugs and other banned substances every single day of the year."
He said despite the drugs being very well hidden "our officers were still able to prevent this consignment from reaching its final destination".