New Year Honours: London list includes Games first aider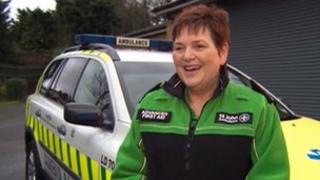 The woman responsible for first aid crews during the Jubilee celebrations and the Olympic and Paralympic Games is among those who have been recognised in the New Year Honours list.
Ann Cable, 59, has been made an MBE for her voluntary service to St John Ambulance.
Mrs Cable joined the service aged 10 and volunteered more than 2,000 hours of her time this year.
She joins others honoured for their service to the community.
Mrs Cable, a retired primary school teacher, was one of four Gold Commanders during the city's major events.
She was in charge of making sure enough first aid crews were "in the right place at the right time".
Volunteers had to be brought in from around the country.
'Proud to be British'
Mrs Cable will resume the same role for the city's New Year's Eve celebrations.
She said: "It has been a phenomenal year, absolutely wonderful."
She called it a privilege to experience the "happy, positive atmosphere" of the Games.
"I was proud to be British."
To top it all, the mother of two is expecting her first grandchild in two weeks.
In public life, Metropolitan Police Commissioner Bernard Hogan-Howe has been knighted - as is traditional for the holder of Britain's top policing job.
He said: "I am very proud and thrilled at this recognition of the hard work of colleagues in the Metropolitan Police, South Yorkshire, Merseyside and Her Majesty's Inspectorate."
PC James Engelbach, 58, receives the Queen's Policing Medal for distinguished service.
PC Engelbach, who works on a response team in Ealing, west London, and has had 39 years of service, has policed the Silver, Golden and Diamond Jubilees.
"I'm stunned to be awarded this great honour. I have experienced a lot in the job and had plenty of fun on the way, and I'm not quite finished yet," he said.
Leader of the Liberal Democrat London Assembly Group Caroline Pidgeon, 40, said she was completely surprised, humbled and proud to be appointed MBE after 20 years working in politics and for charity.
She said: "It's such an honour to go to the palace."
'Rather bizarre'
Among those recognised for their work in the community is Howard Rabin, 65, known as Zvi.
He founded the Lubavitch Lending Library in Stamford Hill, north London, 40 years ago after it was suggested that the Jewish community in the area have its own library.
It does not receive any local authority funding.
He said he found the news that he was to become an MBE "rather bizarre".
"In the last two years, since we moved to new premises, we've lent 50,000 books a year so it's popular."
Anthony Boden, a prison officer at Feltham Young Offenders Institute, has been made an MBE for his voluntary services to an Ealing youth project, Your Life You Choose.
He visits 10 to 15 schools each year to tell 11-year-olds what life inside prison is really like.
He said: "I tell them about the loneliness, no mobiles, no Facebook, YouTube. That stuns them."
Maureen Simpson, a foster carer, has become an MBE for services to children in Hounslow.
London head teachers Sally Coates, Joan McVittie and Vicki Paterson have been appointed DBE.