Met and Border Agency work to deport foreign offenders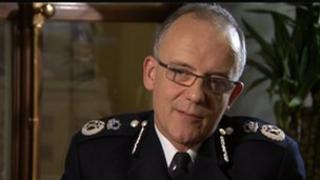 An operation by London's police and the UK Border Agency (UKBA) has helped plug a "gap" in dealing with foreign offenders, the assistant commissioner has said.
The Metropolitan Police and the agency have shared intelligence since September.
UKBA officers have been posted in 21 custody suites allowing quicker immigration checks to be run.
In three months, 179 foreign offenders have been deported, the UKBA said.
'Dubious status'
Having UKBA officers at police stations has allowed checks to be run on whether people are wanted or have previous convictions abroad, or are in the UK illegally, said Mark Harper, Minister of State for Immigration at the Home Office.
He said: "Before, people were not identified as foreign nationals until they got far further through the criminal justice system."
Of the 179 offenders removed from the UK, 11 included "high harm" individuals involved in gangs and serious crime, he said.
He added another 300 people had been detained.
Crime scene prints have been run against UKBA databases as well as the national police database in order to solve more crimes.
The Home Office said working relationships had been established with police officials from countries where high volumes of offenders come from.
Assistant Metropolitan Police Commissioner Mark Rowley said 28% of those arrested in London, about 1,500 people a week, are foreign nationals.
He said: "We've realised there's a gap there and we are trying to close it.
"We have to be as good at dealing with criminals from Portugal, Poland or Pakistan as we are criminals from Peckham, Portsmouth or Preston."
Mr Rowley said about a quarter of those involved in "high-risk" crime including organised crime and sex offending, were foreign nationals.
"A small number of those have very dubious immigration status," he added.
The latest census results for England and Wales showed London has both the largest proportion of residents born outside the UK (37%) and non-UK nationals (24%).
The operation will run until the end of March and could be rolled out to other forces.