London Underground cleaners to strike over pay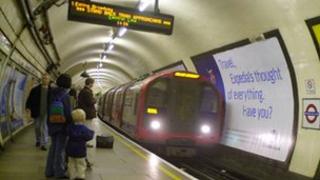 London Underground station cleaners are to go on strike next week in a dispute over pay, their union has said.
The Rail Maritime and Transport (RMT) union said members working for Initial and ISS contractors would walk out for 48 hours from 05:30 GMT on 31 December.
The announcement comes after Tube drivers went on strike on Boxing Day in a row over bank holiday pay.
Much of the Tube network was disrupted on the first day of the post-Christmas sales.
The RMT's general secretary Bob Crow said the cleaners were doing "some of the dirtiest jobs" on minimum pay.
London Underground urged the parties involved to resolve the dispute without strike action.
'Normal' services
Mr Crow said the cleaners were working "in often appalling conditions with no proper recognition and reward whatsoever".
"It is these same staff who have played a key role in keeping services clean and safe who are now forced again by their employers to take action for a living wage and recognition of their efforts," he said.
"It is time for London Mayor Boris Johnson to stop talking about a living wage and start acting to make sure that contractors on his services actually deliver it."
Philip Hufton from London Underground said: "This is a dispute between ISS, Initial and the RMT which we urge all parties to resolve without any unnecessary strike action.
"London Underground will be operating as normal during the planned industrial action and we do not anticipate any impact on train services."
He said Transport for London fully supported the mayor's London Living Wage, which was increased to £8.55 per hour in November.
"All cleaners directly employed by TfL are paid at least the London Living wage, and we require contractors working on the Tube network for London Underground and Tube Lines to do the same," he said.
'Real shame'
A spokesman from ISS said the company was genuinely disappointed the RMT had called the strikes.
"We have already informed the union that we will be introducing the London Living Wage for all of our staff supporting Transport for London at the end of March," he said.
"It is a real shame that the RMT has asked its members to give up pay when it knows that we have already agreed to introduce the new pay rates with our customers.
"We respect that the RMT has the right to take industrial action and remain committed to working with the elected representatives of our employees."
The Boxing Day strike by drivers caused massive disruption to the Tube network.
Nine lines ran limited services, while the Piccadilly line operated a shuttle service between Heathrow terminals and Hammersmith, and between Arnos Grove and Cockfosters.
The Docklands Light Railway operated in parts but not between Canning Town and Beckton or Shadwell and Bank.
There was no service on London Overground.