Woman attacked with samurai sword on Holloway Road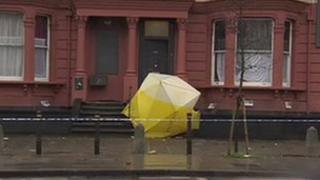 A woman has been stabbed with a samurai sword in north London in an "unprovoked" attack, police say.
An unarmed officer responding to the call of a woman being attacked on Holloway Road at 00:40 GMT was confronted by a man with the sword.
The victim, 22, an Italian, has wounds to her legs, arms and face but her injuries are not life-threatening.
A 25-year-old man was arrested and a bag containing a crossbow, samurai type swords and hunting knives was seized.
The police sergeant who went to the scene found the woman bleeding heavily on the floor, the spokesman said.
'Brave officer'
The officer was also chased down the road by the offender before he managed to force the suspect to the ground and arrest him.
Det Supt Steve Wallace said: "This was a vicious unprovoked stranger attack on a defenceless woman and if it had not been for the officers bravery and quick thinking the woman and other members of the public could have been killed.
"It takes a very brave officer to tackle a man who you know wants to inflict serious injuries to you with a samurai sword.
"The fact that the officer was unarmed and alone when he tackled the man only underlines his bravery.
"He recognised the threat posed by this man and in a conscious act, positioned himself between the suspect and the public to prevent anyone else being seriously injured."
The victim is in a serious condition in hospital and her parents have travelled from Italy to be with her, the Met said.