Tests on woman killed at bus stop in south London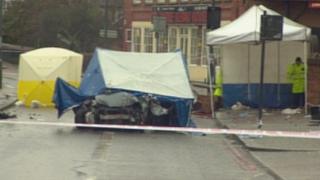 A post-mortem examination is being held on the body of a woman who died when she was hit by a car at a bus stop.
The victim and a man were struck by an Audi A3 at Streatham High Road, south London, on Saturday morning. The man remains in a critical condition.
Police had believed the Audi had collided with a Volkswagen Passat in London Road, Croydon, 10 minutes earlier.
It is now thought the Volkswagen hit a tree and the Audi had stopped nearby.
The driver of the Audi got out of the car and two plain-clothes police officers who were near the scene approached the vehicles and identified themselves.
The officers stayed with the injured driver of the Volkswagen, who was taken to hospital where he is in a serious but stable condition, while the driver of the Audi left the scene.
The Directorate of Professional Standards have been informed about the contact between the Audi's driver and the Metropolitan Police officers minutes before the fatal crash, police said.
The driver of the Audi abandoned the car near the bus stop following the crash and had left the scene before officers arrived.
No arrests have been made.