Woman dies as car hits bus stop in south London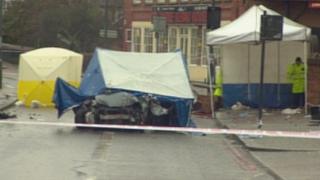 A woman at a bus stop was killed when she was hit by a car which minutes earlier had collided with another vehicle in south London.
The woman, believed to be in her 30s, was pronounced dead at the scene on Streatham High Road, at 5.30am and a man was also critically hurt.
Ten minutes earlier, the Audi had been in a crash with a car in London Road, Croydon - about two miles away.
A man was taken to hospital and is in a critical condition.
Plain clothes police, who had been on duty nearby, intervened and a man fled in the Audi.
Officers stayed with the injured man in the other car before he was taken to hospital.