Metropolitan Police consider closing police stations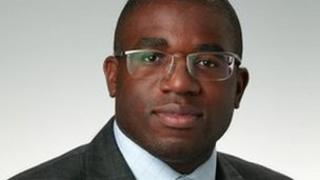 The Metropolitan Police are considering proposals to close dozens of police stations across London.
The force's proposals include closing the 65 least-used front counters and maintaining at least one 24-hour counter in every borough.
Tottenham Labour MP David Lammy said the plans were "deeply worrying".
The mayor's spokesman said proposed changes would be subject to full public consultation in the New Year.
Speaking in the House of Commons, Mr Lammy said it had been reported the number of stations in the capital could fall from 133 to 71.
Most boroughs could be left with a single station manned around the clock, he said.
Mr Lammy said it was "hugely alarming" that a borough the size of Haringey, with a population of around 250,000, could have just one 24-hour station.
'Shops burn'
Under the proposals, the number of 24-hour stations would fall from 64 to 33, part-time stations from 52 to 33 and volunteer-manned stations from 17 to five.
Mr Lammy hit out at Conservative London mayor Boris Johnson over the leaked proposals.
"I'm concerned that the Mayor's understanding of helping to reduce crime might be helping to reduce the public being able to report crime," he said.
"That's what will happen if this set of closures goes ahead."
"To tell my constituents who just months ago watched their homes and shops burn in front of their eyes ... that there will be a diminution of police stations on this scale, alongside police officers, is deeply, deeply worrying."
The force is planning an expansion in contact points, so people can report issues to officers in cafes and supermarkets.
Mr Lammy said: "Of course we want to make our police station accessible.
"But I have constituents who are worried about gang crime. They are worried about 'that young man who I know is in a gang' and they want to report it quietly.
"They don't want to negotiate someone having a latte in a coffee shop. They don't want to negotiate someone with their shopping in Sainsbury's."
Riots spread across England after police shot Mark Duggan in Mr Lammy's constituency of Tottenham, north London, on 4 August last year.
'No decisions'
The Metropolitan Police are seeking to make £500m savings over the next three years.
A Met spokesman said: "In addition to the round-the-clock counters, other counters, with opening hours more reflective of public demand, will remain in service and we plan to create a number of other contact points to allow the public to seek out help in places more convenient to them.
"Our wider plans will also allow us to visit more victims of crime at home or workplace thus reducing the need in many cases for them to come to us.
"However, no final decisions have been taken on the plans and we are continuing consultation directly with local political leaders and via the Mayor's Office for Policing and Crime (MOPAC) with whom final approval of the plans will rest."
The mayor's spokesman said nothing had yet been approved but any proposals would be subject to full public consultation in the New Year with a decision in March 2013.
"The Mayor is determined to see vastly improved public access to the police, whilst ensuring there are more officers than ever patrolling London's streets.
"What matters most is prioritising bobbies over buildings."