Four killers jailed for teenager party murder in Ilford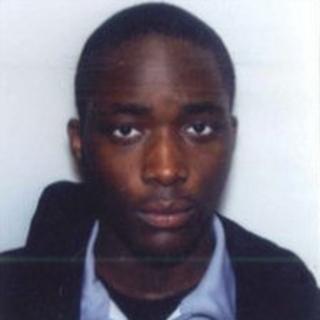 Four men convicted of killing a 17-year-old who was stabbed at a birthday party in east London have been jailed for life at the Old Bailey.
Kelvin Chibueze, of Croydon, was stabbed at the Arteflex Club in Ilford High Road in August last year.
He was then chased out of the party and attacked by men carrying champagne and brandy bottles, the court heard.
Dale Williams, 21, Lerone Boye, 26, Roger Damali, 31, and Hugo Nwankwo, 18, were found guilty of murder last month.
Williams, of Dagenham, was given a minimum term of 26 years, Boye, of Beckton, was given 28 years, Damali, of Barking, received a 23-year sentence and Nwankwo, also from Barking, was given 16 years.
All four are from east London.
'Veil of silence'
The fatal attack came after two groups of males clashed at the club.
Sentencing Judge John Bevan said: "The veil of silence which has fallen over the main participants in this case speaks volumes as to the cowardice and moral bankruptcy on both sides of the parties.
"Witness after witness refused to speak out and avenge the death of their 17-year-old friend."
The jury heard the victim had been confronted by people brandishing knives inside the club.
A woman working at the club's bar said that after the confrontation she saw a number of males picking up champagne and Hennessy brandy bottles from the bar and running out of the club with them.
As his friends ran off, Kelvin was stabbed again by two men in a car park adjoining Ilford police station, the court heard.
Four knives were recovered from the area.
The teenager, from New Addington, died from a stab wound to the heart, but he had also been stabbed in the forearm, buttock and on one palm.
Following the sentence Det Sgt Mark Romain said: "Kelvin Chibueze was ruthlessly attacked, chased and left to die.
"The violence used brutally ended a young man's life and showed scant regard for the safety of others in this busy venue."