Friern Barnet library squatters can be evicted by Barnet Council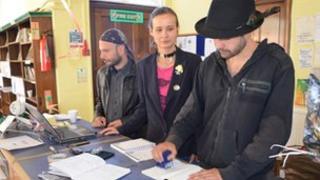 Squatters who set up a book-lending service in a library that was closed due to budget cuts can be evicted in six weeks, a judge has ruled.
In September, members of Occupy London moved in to Friern Barnet library in north London, which was closed in April by Barnet Council.
At Barnet County Court, Judge Patricia Pearl granted the council a possession order to be enforced on 31 January.
The squatters said they had expected to be evicted before Christmas.
The judge said removing the group would infringe their right to freedom of expression, but added that their removal was legally justified.
Richard Cornelius, the leader of Barnet Council, said: "I am obviously delighted by this verdict.
"The council has always made it clear that we are keen to support a community-run library in Friern Barnet with local residents.
"Now this case is over, we will sit down again with local residents and discuss how we can help to create just that."
'Good result'
Local organisations can come forward with proposals for what they want to do with the building under the government's Localism Act.
Peter Phoenix, one of the squatters, said its affiliated campaign groups would be putting in a community bid.
"It's more effective to protest in the building against cuts to libraries than it is to stand outside the building waving a placard," he added.
"The judge said it may bias the decision on who wins the right to bid if we're still in the building, which we disagree with. We might appeal."
He added: "We were expecting to be evicted before Christmas Eve. We're very grateful."
He said the group had until 31 January to negotiate whether it could get a licence to continue to run the library with the council and that bailiffs could be sent in on 1 February.
He said more than 10,000 books had been donated to the campaigners since September.