Met Police chief slams Great Ormond Street gifts theft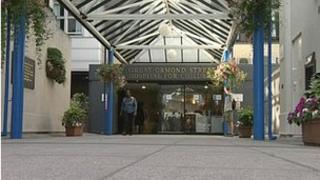 The theft of Christmas presents from Great Ormond Street Hospital has been described as "disgusting" by Met Police Commissioner, Bernard Hogan-Howe.
Up to 20 gifts, including games consoles and DVD players, were taken from the world-famous London children's hospital on Monday.
Mr Hogan-Howe said: "You cannot imagine anything worse in a way for children who are ill at Christmas."
The hospital later confirmed a "long-term supporter" had replaced the gifts.
"For somebody to take the time to buy [the children] something to cheer them up, and then for somebody to steal them, is pretty awful," continued Mr Hogan-Howe.
'Overwhelmed by offers'
"It is pretty disgusting really. What I know is that I believe it is fourteen DVD players that have been taken and there are three PSP or Nintendo-type games," he added.
"I would like to appeal if anyone knows who took them, please tell us - there are three ways of doing this, you can dial 999, but the best type for this type of information is 101 because you get straight through the police. "
The presents were taken between Friday and Monday from a private part of the hospital, Scotland Yard said.
After the theft was publicised, a number of retailers offered to replace the stolen presents.
A Great Ormond Street Hospital spokeswoman said: "We have been overwhelmed by generous offers from individuals and companies to replace the missing items.
"These items have now been replaced by a long-term supporter.
"Thank you to everyone who has contacted us for their concern and kindness."