Harry Potter contributed to square's £1.7m extra costs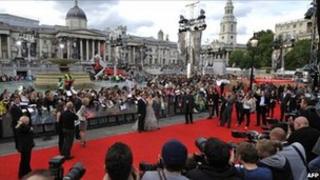 A Harry Potter premiere and utilities work were two of the factors which caused the revamping of Leicester Square to cost £1.7m more than planned, a report has shown.
Westminster City Council has agreed to pay the extra money to settle contractor SIAC's bill.
But the authority claimed it had actually brought the scheme in under the original estimate of £19m.
A spokesman added that the improvements had sparked investment of over £400m.
'Changes to scope'
A report seen by Labour councillor Paul Dimoldenberg, but not made public, said the cost of works to improve the square increased from £15,385,000 to £17,108,000.
The revamp included repaving the square and side streets, installing new seating, lighting, railings and gates, and landscaping.
SIAC said the increase was due to "changes to scope" and delays including work by utility companies, film premieres at the end of 2010, the Harry Potter premiere in July 2011 and The London Film Festival in October 2011.
The premiere for the final film in the wizard series, Harry Potter and the Deathly Hallows: Part II, used a red carpet which stretched three-quarters of a mile (1.2km) from Trafalgar Square to Leicester Square where the film was screened.
In a confidential report seeking approval for the increased costs SIAC said the premier disrupted work for two weeks.
The report was released to Mr Dimoldenberg who criticised financial controls for being "lax" at a time when services for older people, the disabled and children were being cut.
He said: "It is absolutely appalling."
But Westminster Council said the original estimate for the work, obtained in 2010, was £19.38m.
Rosemarie MacQueen, strategic director for the built environment at Westminster Council said: "In fact it has been delivered almost £2m under budget."
On 4 December, the executive committee agreed to "additional capital expenditure to meet the revised project cost".
The square officially reopened in May.
The council said new companies such as Costa Coffee and Café Rouge and two planned hotels were among those bringing business to the world-famous square.