Great Ormond Street Hospital Christmas presents stolen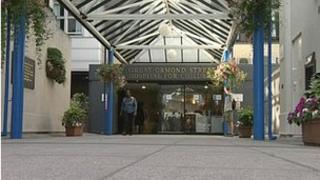 Christmas presents for children in an intensive care unit have been stolen from Great Ormond Street Hospital.
Up to 20 wrapped gifts were discovered missing from the world-famous London children's hospital on Monday.
The presents, bought by the hospital charity fund, included DVD players, DVDs and Nintendo DS games consoles.
Insp Neal Anderson said: "To steal presents... for children too sick to be at home with their families at Christmas is beyond belief."
'Generous offers'
The gifts were taken between Friday and Monday from a private part of the hospital, Scotland Yard said.
A number of retailers have offered to replace the stolen presents.
A Great Ormond Street Hospital spokeswoman said: "We have been overwhelmed by generous offers from individuals and companies to replace the missing items.
"These items have now been replaced by a long-term supporter.
"Thank you to everyone who has contacted us for their concern and kindness."
The hospital, which was set up in 1852 and celebrated its 160th anniversary this year, has more than 200,000 patient visits annually.
Its valuable work was highlighted during the opening ceremony of the London Olympics, when many of its young patients and staff took part in a sequence paying tribute to the NHS.
Mr Anderson added: "I would urge anyone who has information about the individual or persons responsible to contact officers so that we can try and get the items back before Christmas Day.
"I would also urge the thief to try and think about their actions and do the decent thing and return them."