Kwame Ofosu-Asare murder: Two teenagers found guilty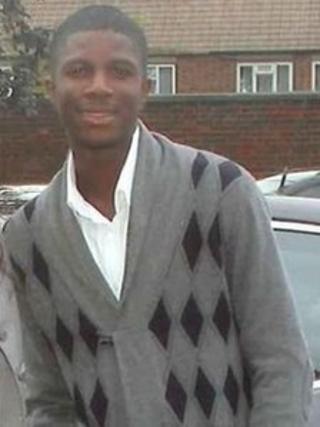 Two teenagers have been found guilty of the murder of an schoolboy.
Kwame Ofosu-Asare, 17, was stabbed while he was walking in an estate in Brixton, south London, in March.
The Old Bailey heard two youths involved in a "poisonous and senseless" gang war had mistaken him for one of their enemies.
Nelson Idiabeta, 18, of no fixed address, and Nathaniel Okusanya, 19, of Lambeth, were remanded in custody for sentencing on Tuesday.
Kwame, from Catford in south-east London, was stabbed repeatedly in the back and received a total of 14 wounds while walking in Adelaide Close with a friend in broad daylight.
Crispin Aylett QC, prosecuting, said the attack had its roots in a feud between the TN1 (Trust No-One) gang from Tulse Hill, south London and Brixton-based GAS (Guns and Shanks).
'Senseless feud'
Idiabeta and Okusanya were members of TN1, and were out to avenge one of their members who had been stabbed in a bus garage attack by GAS earlier that day.
Mr Aylett told the jury: "Kwame's death was but a part of a poisonous and senseless feud between two rival gangs of youths in south London.
"Kwame was in fact not a member of either gang.
"He was killed for no reason other than that his murderers had come upon him on an estate which they considered to be enemy territory, and at a time when they were looking to take revenge for the stabbing of one of their own only hours earlier.
"In other words, Kwame was murdered for being in the wrong place and at the wrong time - a glib phrase that does not even begin to describe the suffering of his family and friends that has resulted from his murder."
Mr Aylett said Kwame and his friend tried to get away by going into a side road where the friend's aunt lived, but the aunt was not home and they were trapped in a cul de sac.
The friend managed to get away by jumping over a 6ft high wall, but Kwame "got caught", Mr Aylett said.
"His killers were cowardly as they were merciless," he added.
'Lives ruined'
Kwame's father Kwaku Ofosu-Asare, a sports journalist, said his son detested gang crime.
He told the court in a statement that Kwame was full of potential.
He was in the sixth-form of Forest Hill School and excelled in sport, music and acting.
Mr Ofosu-Asare said: "Kwame was a very vibrant, energetic and enthusiastic boy.
"His brother and sister are struggling to cope with his death.
"All our lives have been ruined."