Aarron McKoy Clerkenwell birthday killing: Gunman jailed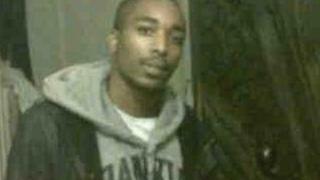 A gunman has been jailed for a minimum 31 years for killing a teacher's son celebrating his 22nd birthday in a wine bar.
Aarron McKoy was out with his twin brother in Clerkenwell, central London, on New Year's Day when he was shot.
Dean Smith, 26, of Stoke Newington, north London, was found guilty of murder at the Old Bailey last week.
He was jailed for life and told he would serve a minimum of 31 years.
'Senseless act'
Judge Wendy Joseph told him: "It was a true execution of a young man who was utterly defenceless and at your mercy.
"Aaron had done nothing to you or indeed anyone else."
Cyreena McKoy said the murder had devastated her family. Her brother Lee was "like a lost soul" without his twin.
"Dean Smith had no reason to commit this senseless act," she said in a statement.
The court heard that Mr McKoy became the innocent victim of a long-running feud between two gangs.
He had had friends who were associated with the Holly Street Boys, while Smith was a long-standing member of the rival Lordship Lane Boys.
He arrived with a group at the Clerkenwell House wine bar in Hatton Wall as Mr McKoy and his friends were peacefully celebrating.
Tripping up
Aftab Jafferjee, prosecuting, said trouble had broken out and the club had been cleared.
But outside, Mr McKoy and a friend were attacked. He ran off and was chased.
After tripping up, he found Smith standing over him with a gun.
He shot Mr McKoy and was turning away when Mr McKoy tried to move.
He shot him twice more and left him with "devastating injuries".
Osman Mohammed, 23, Perrie Dennis, 23, Jack Nichols, 21, Ceon Hewitt, 22, and Daniel Oyetoro, 27, were all found not guilty of murder.