Regent's Park squabbling swans reunited after split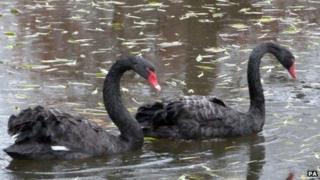 A pair of swans that were separated after almost seven years together have been returned to their home in Regent's Park, central London.
The Australian black swans, which mate for life, began "squabbling" in early summer last year.
They went back to Queen Mary's Gardens, where the lake has been de-silted after water quality dropped, on Friday.
Tests showed the water was low in oxygen but the problem has been remedied, enabling the swans' return.
When the pair started "squabbling", the male was originally left in Queen Mary's Garden while the female was moved to another pond in the park.
A Royal Parks spokeswoman said the lonely male bird was spotted searching and calling for his mate after she was moved, but remained on the lake for another six months until the need for de-silting became apparent.
Wildlife officer Dave Johnson then moved him to the top pond at the Nature Study Centre on Hannover Island to enable the work on the lake to be carried out.
Wardens said one of the causes of low-oxygen in the water was from carp stirring up the lake bed, which prevented sunlight from penetrating and reaching the aquatic plants.
Andrew Williams, the gardens' assistant manager, said: "The male and the female tend to mate for life so it was a little unusual that they fell out."
He said the couple's return was a success.
"We've had a good release of the swans, with a little bit of a delay looking out on to the water, then we stepped in and I think they look very happy and very glad to be back to their rightful home."