London transport crime 'continues to fall'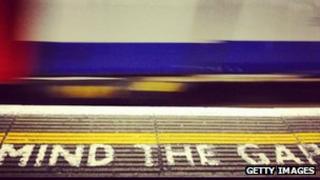 Transport-related crime went down 2.3% during the summer despite record passenger numbers for the Olympic Games, according to latest figures.
Between 1 July and 30 September there were nearly 200 fewer crimes on Transport for London's (TfL) network than the same period last year.
But thefts on buses rose by 4.3%.
The Rail, Maritime and Transport (RMT) union said there was still a major crime problem and criticised plans to close ticket offices.
TfL said crime on the transport system was at its lowest level in eight years.
There were 8,319 recorded offences on public transport between 1 July and 30 September compared with 8,516 over the same time last year.
On London's buses, crime went down by 3.5% or 177 fewer offences.
In particular, reductions were seen in criminal damage, robbery and violence against the person, although there was a rise in the number of thefts.
'De-staffing' stations
Ch Supt Sultan Taylor, from the Metropolitan Police, said: "This year has seen a huge increase in numbers of people coming to London for major events such as the Olympics and the Queen's Diamond Jubilee and together we have continued to deliver a safe, secure and reliable transport system.
"We are determined to maintain this and reduce crime even further. Our message is clear: If you commit crime on the transport network you will be caught, using all available tactics and technology and brought to justice."
An RMT spokesman said while London mayor Boris Johnson continued with plans to cut tickets offices, crime would remain a problem.
"There is a major crime problem on the underground network and plans to close ticket offices and de-staff stations will only increase opportunities for assaults and thefts.
"We would call on the mayor to reverse the planned cuts in the interests of tackling the crime problem."