Christopher Haughton detained for trying to kill PCs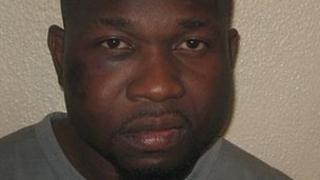 A man convicted of trying to kill two police officers has been detained under the mental health act.
Armed with a butcher's knife, Christopher Haughton, 33, attacked four constables in Kingsbury, north-west London, in November 2011.
Haughton, from Wembley, was found guilty on Monday of two counts of attempted murder and two of causing grievous bodily harm with intent.
He was diagnosed with paranoid schizophrenia after the attack.
He is undergoing treatment for the condition and the Judge Peter Beaumont, the Recorder of London, detained him without a time limit.
'Considerable courage'
Police constables Alistair Hinchliff, Thomas Harding and Andrew Robb needed surgery and months of treatment after the attack.
Judge Beaumont said: "It seems appropriate to draw to the attention of the commissioner the court's appreciation of the very considerable courage of the three police officers.
"All three acted in a very difficult situation with very considerable courage and the public is in their debt."
PC Stephen Barker was bitten on the arm and was hit on the hand with some masonry that Haughton had thrown.
Haughton watched the proceedings from a videolink from Broadmoor secure hospital where he is detained.
In a letter, his mother Angela apologised to the officers on behalf of her family. She said Haughton had been calm and loving before becoming ill.
Haughton caused minor injuries to two female officers during an incident in October last year,
He was allowed bail and the next month he attack the four officers.
Good fortune
After causing a disturbance in the street, he was cornered in the butchers shop where he was threatening staff.
Edward Brown QC, prosecuting, told the court some of the officers now found it difficult to attend incidents where a knife might be involved.
Pc Harding had 9ins (23cm) of intestine removed after he was stabbed through a shield after being pinned on the ground.
Pc Hinchliff, who was stabbed in the face and arm when he went to help his colleague, said he had been left with scars on his face.
He told the trial: "It was perhaps only a matter of very good fortune that some of the police officers escaped with their lives."