Shell Centre development on London's South Bank: Plan unveiled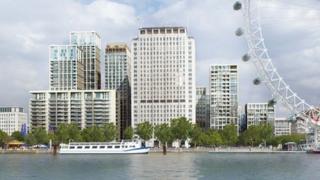 Plans to make the Shell Centre on London's South Bank the centrepiece of a mixed-use development have been unveiled.
The landmark building occupies land between Waterloo Station and Hungerford Bridge.
The Canary Wharf Group and Qatari Diar have revealed plans to build offices, up to 790 homes and a number of shops.
They also want to create walkways connecting Waterloo Station with the South Bank.
The developers said the plans had been shaped by feedback from a year-long public consultation.
They would see Chicheley Street widened to open up the approach to the London Eye, while a central square would provide open space.
'Long-term home'
The proposals also include an energy centre to "reduce the carbon footprint of the site".
Shell International Limited, which has had a presence on the South Bank for more than 50 years, will relocate 1,700 staff to Canary Wharf and The Strand during the works.
Shell would retain the freehold of the site, with Canary Wharf Group and Qatari Diar holding a 999-year lease for the site, according to the plans.
Graham van't Hoff, chairman of Shell UK, said the company would move its London-based staff back to the South Bank when the work was complete.
"Shell Centre is our long-term home in London," he said.
Sir George Iacobescu, chairman and chief executive of the Canary Wharf Group, said: "Our vision is of a beautiful place to live and work in the cultural heart of the most exciting city in the world.
"Just as importantly, we look forward to working with the local authority and the community to ensure that local people get the best possible opportunities from this new development for many years to come."
The proposals, which are planned for completion in 2019, are subject to planning permission being granted.