Hackney authority 'failings' enabled mother to kill children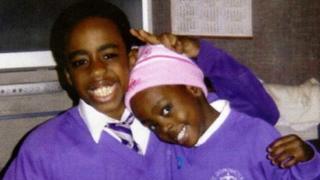 A mentally-ill woman was able to kill her children because of "serious and cumulative failures" by authorities in east London, a coroner has ruled.
Antoine Gamor-Ogunkoya, 10, and his sister Kenniece, 3, were unlawfully killed by Vivian Gamor at their Hackney flat in 2007, ruled Selena Lynch.
Gamor, who has paranoid schizophrenia, had only recently been released from hospital when she killed her children.
Ms Lynch said the risks had not been properly recognised or managed.
Gamor bludgeoned Antoine to death with a hammer and suffocated Kenniece with cling film at her flat in Pembury Close, in January 2007.
'No parental responsibility'
Had social service and mental health workers, in Hackney, better-managed the case, "it is probable that the mother would not have had unsupervised overnight contact" on 26 January, said Ms Lynch, Assistant Deputy Coroner for Inner London North.
The children's father, Gabriel "Jimi" Ogunkoya, told Poplar Coroner's Court, east London, authorities had informed him there was not much he could do to stop his partner seeing her children.
He said he had told social worker Catherine Edwards that Gamor - who had originally been sectioned under the Mental Health Act after threatening a relative with a knife in 2006 - was given overnight contact with the children after just one brief supervised day visit.
Mr Ogunkoya said he had not felt comfortable with the decision to allow Gamor overnight contact because she had only recently been released from hospital and had not spent time with her children for several months.
He said: "Catherine Edwards told me that there is nothing to stop her from seeing the children as I don't have parental responsibility.
"I didn't have a leg to stand on."
'Improved practice'
This prompted Mr Ogunkoya to seek legal advice about getting parental responsibility, during which time he allowed two overnight visits by Gamor that seemed to go well.
However, during her third visit she killed the children.
She was later ordered to be detained indefinitely after a hearing at the Old Bailey in August 2007, at which she had admitted the manslaughter of the pair.
The court verdict prompted Hackney council to launch an inquiry in to the case.
Alan Wood, director of children's services at Hackney Council said children's social work in Hackney had been "transformed" over the last six years.
Dr Robert Dolan, chief executive, East London NHS Foundation Trust, said: "Following this incident, the National Patient Safety Agency issued guidance to all NHS trusts which has been embedded in our training.
"Since 2007, we have reviewed and improved practice in all our community mental health teams and will continue to prioritise the needs of the whole family, including children."