PC stabbed in butchers shop does not resent attacker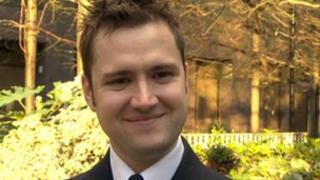 A Metropolitan Police constable who was stabbed with a 10-inch butcher's knife while on duty in north-west London has said he bears no resentment to the man who could have killed him.
Christopher Haughton, 33, of Wembley, attacked PC Tom Harding and three of his colleagues in Kingsbury on 19 November last year.
He has been convicted at the Old Bailey of the attempted murder of PC Harding.
PC Harding, 27, is back at work on the same beat after extensive surgery.
'Attacked the uniform'
The attack led to the Met Police commissioner, Bernard Hogan-Howe, calling for police response officers to be routinely armed with Taser stun guns.
One officer was slashed across the face, another suffered knife wounds to his leg.
"Since speaking to my doctor and surgeon I realise it could have been fatal," PC Harding told BBC London.
The officer, who has been in the job for four-and-a half years, suffered a perforated bowel and blood poisoning.
"He attacked the uniform. It could have been me or any of my colleagues," he said.
"I don't have resentment. He needs to be helped."
The officer was responding to a call made by the public about Haughton acting strangely.
He and up to 10 other colleagues followed Haughton, who has since been diagnosed as a paranoid schizophrenic, into Kingsbury Halal Butchers.
'Threat through roof'
He said threat levels were "through the roof" when they entered the butchers.
"Our biggest thought was about knives. Our objective was to stop him getting a weapon."
Mohammed Qasim, owner of the butchers said Haughton came in and said: "Give me a chopper, give me a chopper."
PC Harding was carrying a shield and wearing a stab vest when he was knocked to the ground and stabbed.
He said there was "no time to be afraid" and that at every stage he and his colleagues did what they had been trained to do.
Haughton who is now being treated for his mental illness, told the Old Bailey he attacked the police because he was afraid.
Asked if a Taser would have helped him, PC Harding said from what he had seen, he thought it could have made a difference.
"The Taser is a valuable tool. It's been proven to work," he added.