Mortlake plane-fall stowaway e-fit issued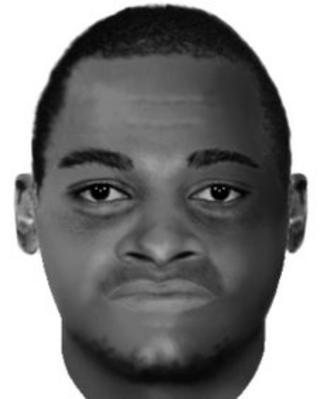 An e-fit has been created of a man whose body fell from the undercarriage of a plane near Heathrow airport.
Police were called to Portman Avenue in Mortlake, south-west London, on 9 September following reports of the body find.
Officers have issued the image and photo of his tattoo in a bid to identify him.
Police believe he was an African man, aged between 20 and 30 years old and 5ft 4ins tall.
He was wearing jeans, a grey hoodie and white trainers.
Multiple injuries
His tattoo was on his left arm and includes an emblem with the letters Z and G.
It is possible he was from Angola, since he was found with the country's currency, and a flight from Luanda had passed over Mortlake prior to the body being found.
He was not a member of the crew or a passenger, a police spokesman said.
Officers are keen to identify the man so that next of kin can be informed.
A post-mortem examination indicated the man died from multiple injuries.
An inquest has been opened and adjourned.