London Blitz: Woman recalls surviving direct hit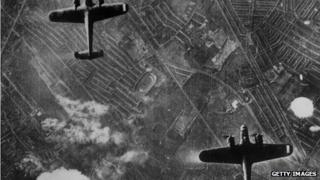 Doris Leci was one of a handful of people who survived when her father's east London factory was bombed during the Blitz.
She was 25 at the time and working in the office when the site in Hannibal Road, just off Mile End Road, Stepney Green, took a direct hit in 1940.
Mrs Leci, 97, said: "It was a Friday at 9am when the alarms went off and we all went down into the shelter.
"Because nothing had happened by 12 I thought, this is ridiculous I have to do the wages; the girls will want their money.
"As soon as I went up there, down came the bomb. The factory took a direct hit and quite a number of girls were killed."
'Flat on my back'
Mrs Leci, her father and a few of the other 30 or so employees at the factory that made Army clothing made it out alive.
Although she never returned to the factory, she was told it was completely destroyed.
Along with the other victims, she was taken to the nearby Royal London Hospital where she spent almost two months recovering.
She said: "My lower half was injured but they couldn't find my records so I don't really know what my injuries were.
"All I know is I was flat on my back with little sandbags round me for about six weeks."
Despite this Mrs Leci said there were no lasting effects from her injuries and said she was doing "marvellously well for an old woman".
"They said I couldn't have children but I went on to have two, a boy and a girl."
Recalling life during the Blitz Mrs Leci said she and her husband Soni were newly married and lived in a small flat in Clapton.
"My parents' London house was bombed but you just got on with everyday life.
"You got so used to it, it was something that you sort of lived with if you were lucky enough.
"When I was in hospital there were bombs falling all around and lots of time it was hit."
After leaving hospital Mrs Leci moved to Nottingham to be with her parents as her husband had been called up to the Army.
She said; "I was pleased to get out of London. I had nothing to keep me there. It was a terrible time and I don't know why anyone would want to remember it."