Barnet Council approves outsourcing plans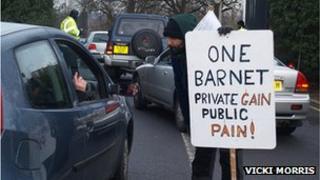 A Conservative-run council in north London has agreed to award £320m worth of contracts to outsource back office services over 10 years.
Barnet Council says outsourcing services, including the council's call centre, payroll, information technology and human resources to Capita, will save it £120m over that period.
The controversial plans would result in the loss of up to 200 jobs.
A Barnet resident has instructed lawyers to seek a judicial review.
'Very good deal'
A council spokesman said about 100 protesters gathered outside Hendon Town Hall.
He said because of interruptions the cabinet meeting had to be moved to a smaller room from which the public was excluded.
Council leader Richard Cornelius said the combination of a saving to the taxpayer of a million pounds a month and an £8m investment in technology by Capita made it a "very, very good deal for the Barnet taxpayer".
The council approved BT as a reserve bidder.
Ahead of the meeting, protest group Barnet Alliance for Public Services said resident Maria Nash had instructed lawyers to seek a judicial review.
Her grounds include an alleged breach of the council's duty to consult residents on its plans.
Residents have complained that Capita will move jobs to Belfast, Carlisle and Swindon, effectively making local employees redundant.
A spokeswoman for Capita said it would not be "appropriate" for her to comment on the council's decision.
The local authority also plans to outsource the administration of its planning, environmental health and regeneration departments, a council spokesman said.