London 2012 volunteers to be in New Year's Day Parade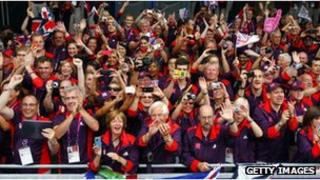 London 2012 volunteers are to take a curtain call with a starring role in the capital's New Year's Day Parade.
There will be 400 Games Makers and performers from the London 2012 opening and closing ceremonies at the central London parade, organisers said.
They join more than 6,000 representatives of London boroughs and guests from around the world.
The parade drew more than 500,000 spectators this year.
The 2013 event will be themed "Hats Off To London - Celebration Capital of the World".
Bob Bone, the executive director of London's New Year's Day Parade, said: "These wonderful volunteers were the outstanding performers of the Olympic Games - not only do they epitomise the spirit of the Games but London itself.
"We wanted to let them take a curtain call on a world stage and show just how welcoming London is."
Pandemonium, a drum crew that performed at the 2012 ceremonies, will be wearing one of their Olympic costumes.
Spokesman Andy Johnston said: "We are terribly excited."
The event will start from mid-Piccadilly before heading through Piccadilly Circus, down Lower Regent Street, to Pall Mall, Cockspur Street, Trafalgar Square, Whitehall and Parliament Square.