Man jailed over naked climb on Whitehall statue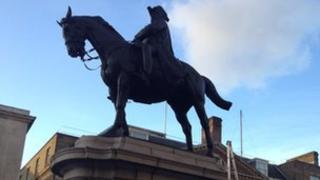 A 29-year-old who stripped naked on top of a statue in central London, before breaking off its sword and biting it, has been jailed for 12 weeks.
Dan Motrescu was convicted of possession of an offensive weapon in a public place, causing criminal damage and a public order offence.
Westminster Magistrates' Court heard how the man, of no fixed abode, spent hours on the statue of Prince George.
The incident in Whitehall on 23 November caused major traffic delays.
Waved his arms
Motrescu straddled the statue in front of onlookers and at times was seen balancing precariously on the Duke's head.
A 100m (328ft) stretch of Whitehall was cordoned off as emergency services tried to persuade him to come down.
Witnesses said he was clothed before he climbed to the top of the statue.
He was seen waving his arms around and talking to emergency crews on the ground as crowds of onlookers gathered at either end of the cordon.
He was given a 12-week sentence for possession of an offensive weapon and a three-week sentence for criminal damage, to run concurrently, a court official said.
No penalty was given for the public order offence.