Plan to double spending on London roads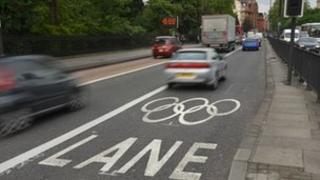 Transport for London wants to double its spending on improving London's roads over the next decade.
Its Business Plan would see investment rise from a planned £1.9bn to £3.8bn, including £900m on cycling safety.
It also wants to add an extra carriage to London Overground trains and bring in the first driverless Tube trains in 2022 on the Piccadilly Line.
Funding for the initiatives would come from the government and annual above-inflation public transport fare rises.
Mayor of London, Boris Johnson, said transport initiatives in the draft Business Plan would be used to spearhead the drive for new jobs and economic growth in the capital.
He said it outlined how a "steady and sustainable stream of funding" from the government would deliver vital new upgrades and improvements to London's transport network.
'Londoners are struggling'
Part of the funding is already in place until the end of 2014/15 but the mayor's office needs to secure an average of £1.8bn per year from the government thereafter to fund the plans.
But Labour London Assembly Transport spokesperson Val Shawcross said: "Londoners are now facing another 10 years of above-inflation fare rises.
"We have already seen fares go up above inflation for the last five years. The mayor needs to realise that Londoners are struggling, it is time he reined these inflation-busting fares in."
London Assembly Green Party Member Darren Johnson said: "There is no vision in the mayor's transport plans because he is stuck talking about road widening schemes and a car dominated past.
Task force
"Money and vision is needed for a future of buses and bikes on London's roads, because that is how most Londoners will be travelling around on our roads in ten years time."
According to TfL about 80% of journeys each day in the capital are made using roads.
It said the money would be used to target congestion as well as manage the competing demands between different types of road user.
Next year, the Mayor's Roads Task Force will set out the priorities for investment in London's road network for all road users.
With safety being a key element, the work will include improving junctions and introducing more new technology at traffic signals and pedestrian crossings - such as using countdown signals.
Other planned improvements include:
Bus passengers able to use credit or debit cards to pay for fares by the end of the year
£300m to help boost regeneration in areas such as Elephant & Castle, Tottenham Hale and Woolwich
Double the Docklands Light Railway tracks between Stratford and Bow Church to increase capacity
Double-track the Croydon to Wimbledon tram link to increase frequency and capacity
28 more Tube stations would be step-free by 2020