Heathrow begins trial of noise relief zones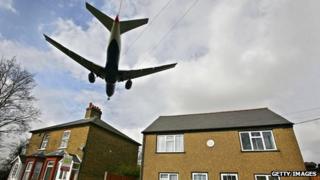 Early morning planes arriving at Heathrow are being directed to more defined flight paths, in a trial aimed at giving residents respite from noise.
The aim is to protect people in dedicated areas from unpredictable aircraft noise between 04:30 and 06:00.
Normally the flight paths into the airport are spread across London.
The scheme is a partnership between Heathrow, British Airways, the National Air Traffic Service and HACAN, which campaigns against aircraft noise.
On average about 17 flights arrive at Heathrow each morning between 04:30 and 06:00.
Take turns
Air traffic controllers normally direct these aircraft to achieve the safest and most efficient arrival routes, spreading out their flight paths.
The Early Morning Noise Respite Trial will look at whether the flights, in particular those at the beginning of their approach into Heathrow, can be routed in a more defined way.
The trial will work by defining two zones over each trial area. Each zone will take turns to be active on a weekly basis.
Pilots will be directed by air traffic control to avoid flying through whichever zone is active for that particular week.
Initiative welcomed
Matt Gorman, Heathrow's sustainability director, said: "A relatively small adjustment in terms of the flight path can have a big impact on those living underneath it."
HACAN chairman John Stewart said: "Periods of respite are very important for residents under the flight paths. We welcome this initiative."
Whether the aircraft land from the east or west depends on the wind direction, so there will be four trial areas, two to the east of the airport and two to the west.
These areas cover places such as Vauxhall, Wandsworth, Battersea, Clapham Common, Westminster, Bermondsey and Streatham to the east of the airport, and Binfield, Reading, Purley-on-Thames and Winnersh to the west of the airport.
The trial will run for five months.