London rents 'deter' talented executives, says Vodafone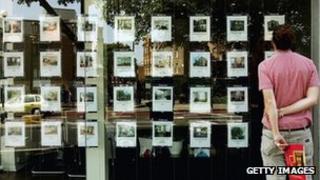 The high cost of renting a home in London is deterring talented executives from moving to the capital for work, communications giant Vodafone has said.
The company said it is struggling to attract mid-level managers, who earn up to £70,000 a year, to the city.
Vodafone's spokesman said London could be "on the edge of a housing crisis".
The CBI group said its bi-annual survey of London firms found housing has been one of the "key weaknesses to doing business" over the last four years.
A spokesman for London Mayor Boris Johnson said he "recognises the need to build more housing".
In August letting group LSL said rents paid by private tenants were rising fastest in London, with the average rent in the capital at £1,074 a month.
'Real shock'
Matt Peacock, Group Communications Director for Vodafone, said the company moves mid-level executives around the world but faces difficulty attracting people to its headquarters in London.
He said: "First of all it provides discouragement for us to grow our talent pool in London, there are plenty of other cities we work in that become more attractive as hubs.
"Secondly, if a company with the resources that we have is struggling to bring people into London and find a rental accommodation that is affordable that must be an indication of a much broader problem.
"It does feel sometimes that the city is on the edge of a housing crisis where the rental market is grossly under-supplied, over-priced and it is a very very big barrier for us to move talent into the city".
The CBI said in its most recent bi-annual survey (in July) of 188 London-based firms, that housing was the fourth "key weakness" after overall operating costs, transport and tax environment.
In a statement it said: "The CBI/KPMG London business survey shows that the cost and availability of housing has consistently been ranked by London firms over recent years as one of the key weaknesses to doing business in the capital."
Housing has been "ranked as the fourth most significant weakness every half year for the past three years, except in December 2011 when it was fifth," the survey said.
The mayor's spokesman said: "The mayor recognises the need to build more housing at all levels in London, whether to rent or buy".
The mayor is on track to deliver 100,000 affordable homes and has called for a "cut in stamp duty to help buyers and launched a £100m Housing Covenant to stimulate the supply of homes for working households on modest incomes", the spokesman added.